Disclaimer:
All Star Wars trademarks and images on this website are Copyright and Restricted by Lucasfilm Ltd and Hasbro, Inc. Original material is copyrighted by Erik Schroeder, 1997 - 2010. This is an unofficial fan site that is not affiliated with Lucasfilm Ltd or any of its licensees.
Detailed Vintage Stormtrooper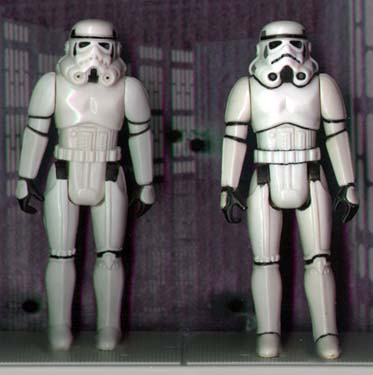 As you may be able to tell, my favorite Star Wars character is the stormtrooper. As a result, I have attempted to perfect Kenner's 1977 stormtrooper (left), which has always struck me as a little bare. By painting a few fine black lines (especially on the helmet), I was able to make the stormtrooper look a little more lifelike.