Disclaimer:
All Star Wars trademarks and images on this website are Copyright and Restricted by Lucasfilm Ltd and Hasbro, Inc. Original material is copyrighted by Erik Schroeder, 1997 - 2010. This is an unofficial fan site that is not affiliated with Lucasfilm Ltd or any of its licensees.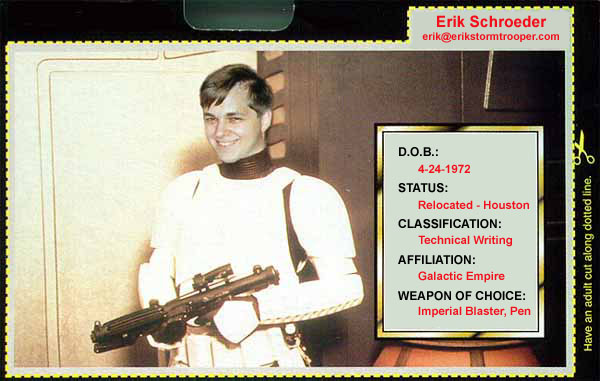 My Star Wars interest has stayed with me since I first saw the film in 1977. Lucky enough to still have my entire original collection from childhood, I began in 1994 to track down figures and vehicles I never had as a child. Feel free to e-mail me with any questions you may have.
NOTE: Contrary to popular belief, I do not own a replica suit of stormtrooper armor. The picture above was created in PhotoShop. If you're looking for info on stormtrooper armor, start at The 501st Legion. You can also find plenty more interesting stormtrooper armor information at TK-103's Homebase.
The Star Wars Wedding
Our tale is set in November of 1999. Read about the daring adventures of our hero (me) as he struggles to overcome the hesitations of his wife to be.

The Ace & TJ Menace
The story of what happens when you mix some radio hosts, a Star Wars geek, plenty of morons, and a pinch of irony.

Growing up with Star Wars
I've compiled an interesting page which contains pictures of my childhood with Star Wars. This page is graphics intensive and will take a while to load.

Toy Customizer
Download a PDF of the 16-page magazine prototype I created.

Old Data
Pay it no mind.

1997 - 2001 Main Page
For old time's sake, here's the old main page for The Imperial Gallery.

Online Resume
A current version of my resume in HTML format, with links to companies and universities. I am presently working full time for Amegy Bank in Houston as a technical writer.


The moose that created this
spinning name thingy has closed his site.