Disclaimer:
All Star Wars trademarks and images on this website are Copyright and Restricted by Lucasfilm Ltd and Hasbro, Inc. Original material is copyrighted by Erik Schroeder, 1997 - 2010. This is an unofficial fan site that is not affiliated with Lucasfilm Ltd or any of its licensees.
Mon Calamari Trooper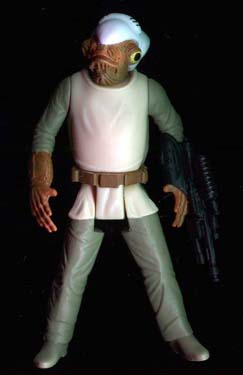 The helmet for this figure was made using sculpey. Then the rank was filed off the chest and parts of the uniform were painted a light olive green. The detail for the helmet was based on the picture below, which is from a 1983 ROTJ behind the scenes booklet. This guy is hard to spot in the movie; he does appear briefly in the ewok celebration at the end.