Disclaimer:
All Star Wars trademarks and images on this website are Copyright and Restricted by Lucasfilm Ltd and Hasbro, Inc. Original material is copyrighted by Erik Schroeder, 1997 - 2010. This is an unofficial fan site that is not affiliated with Lucasfilm Ltd or any of its licensees.
Non-Buff Carbonite Han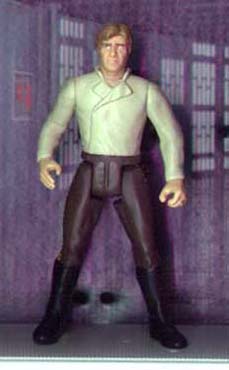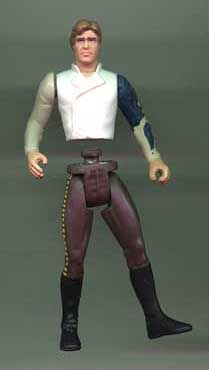 Another effort in my eradication of buff figures (see also my "Not Too Buff" Stormtrooper, Non-Buff Greedo, Non-Buff Lando, Non-Buff Boba Fett, and Non-Buff Rebel Fleet Trooper II), this Carbonite Han Solo is made from Han in Carbonite legs, regular Han arms, and the head and chest piece (so he has the right shirt) from the Princess Leia Collection Han Bespin. I had to cut the Leia Collection Han body at the waist, and I had originally hoped to use the arms from that figure but they turned out to be too wimpy looking. I ended up cutting and filing down the regular Han arms (the left picture shows how much I had to file down the arms). I also repositioned the left arm and right leg. The waist does not turn.