Jabba's Palace Luke with Hood Down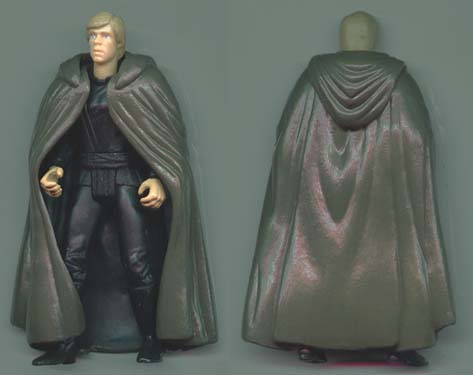 This is another one of those last-minute customs that come up to fill in a diorama. The new thing here is the cloak. The only thing done to the Rancor Luke is that his left foot was slightly repositioned.
The cloak was made from Garindan's with the hood from the Cantina Showdown Obi Wan. Just cut out the hood and glue it on. Crazy Glue was used to fill in the seam between the hood and cloak where it wasn't a perfect fit. Some creativity is required for the front part of the hood, but I'm sure you can figure it out. I used a tannish-brown color because that's how it is in the movie. It's not nearly as glossy as this scan makes it look.
In terms of accuracy, the two slides of the cloak are actually supposed to meet at the neck, but I had to do without that so it could be taken off. Also, since I wanted to be able to take it off, I decided not to paint the inside of the cloak, because the paint would probably come off after the cloak went on and off a few times.