Disclaimer:
All Star Wars trademarks and images on this website are Copyright and Restricted by Lucasfilm Ltd and Hasbro, Inc. Original material is copyrighted by Erik Schroeder, 1997 - 2010. This is an unofficial fan site that is not affiliated with Lucasfilm Ltd or any of its licensees.
Customized Vintage Tatooine Luke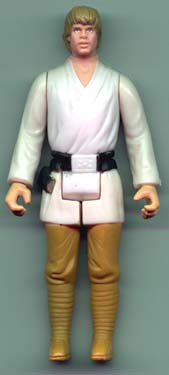 This is a figure I customized before the New Likeness Luke came out. If I'd have known they'd make so many new-likeness versions, I never would have made this in the first place. It's basically a vintage Luke with "Buff" Luke hands and head.