Disclaimer:
All Star Wars trademarks and images on this website are Copyright and Restricted by Lucasfilm Ltd and Hasbro, Inc. Original material is copyrighted by Erik Schroeder, 1997 - 2010. This is an unofficial fan site that is not affiliated with Lucasfilm Ltd or any of its licensees.
Vintage Stormtrooper as Dewback Rider
(and Chauncey the Friendly Dewback)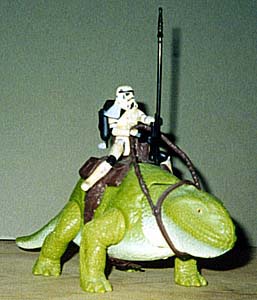 This was done using a lot of sculpey for the joints. The pauldron is a painted piece of electrical tape, and the backpack is a modified GI-Joe flamethrower backpack. The pike is the vintage Leia Boushh staff. The figure was finished with a light coat of tan paint that was partially rubbed off with a napkin.
See this guy in action in the Dewback Patrol diorama.