Ultimate Darth Vader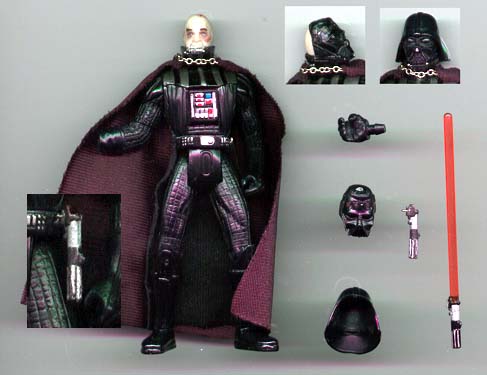 To start, the pelvis and legs with knee joints are from the Complete Galaxy Vader, which had to be cut at the waist (since there's no waist joint on the CG Vader). As a result, the waist of this Ultimate Vader does not turn. The torso, arms, and head are from the Removable Helmet Vader.
Now the tricky part - the helmet. In order to make sure that you don't cut too much, take your time on the helmet and be extra careful. The face mask was dremeled out of the head of the Complete Galaxy Vader. Getting it thin enough to fit on Anakin's head was a very slow process. I had to cut some of the back of it off so that it would fit better on the head. As it was, I had to file down Anakin's head a little. Finally, the top of the helmet is the top piece from the Complete Galaxy Vader. It had to be thinned out as well on the inside. Since I had filed down Anakin's head, I had to recreate the scars on the top by making gouges with a dremel and then painting. The head was finished with a satin coat to cover the filing.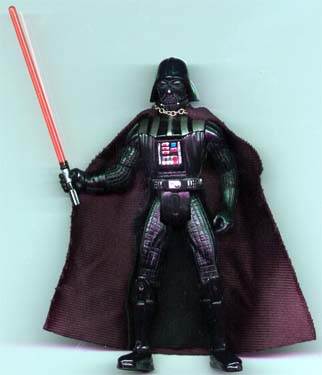 The butt cape is made of cloth and glued on the back of the belt. His main cape is made from the Complete Galaxy Vader cloth cape. The part that pinched his neck was cut off, and a cheap little silver chain was sewed on.
The lit lightsaber's hilt was painted with silver highlights. The lightsaber hilt only was painted identically, and a small link from the chain was glued near the igniting end of the saber. Then a broken chain link shaped like an "L" was glued onto his belt. The hoop on the saber hilt slips over the end of the "L" to hang from the belt. Notice how Vader's saber is worn upside down as compared to other Jedi.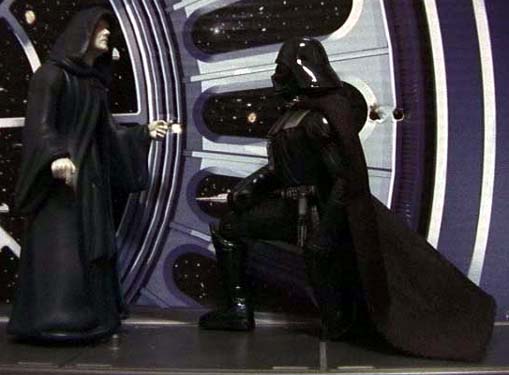 "What is thy bidding, my master?"
| | |
| --- | --- |
| | To see Vader's helmet being removed by his son, click here. |