Review: Magic of the Myth Exhibit
Lightsabers
This was the one thing that really annoyed me. This lightsaber was displayed in the same case with Luke's Hoth outfit and other Hoth accessories. But the lightsaber itself is the one Luke constructed at the beginning of ROJ. This made me really wonder who the target audience of the exhibit was.

In case you were wondering if Luke's lightsabers got switched, below is a picture of the one displayed with Luke's Jedi costume. This is the correct lightsaber for the Jedi outfit.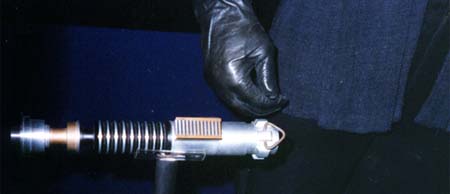 Here's the lightsaber displayed with Darth Vader. It's interesting to note that Vader's lightsaber was slightly different in each movie. The one pictured here is from ROJ; it has the telltale "rod" sticking out the igniting end. (I'm sure all you sickos will have a field day with that one.)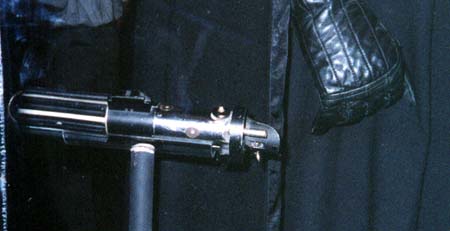 My picture of Vader's disassembled helmet doesn't do it justice. This was one of those things where you just hand to stand there and drool on the case for a few minutes.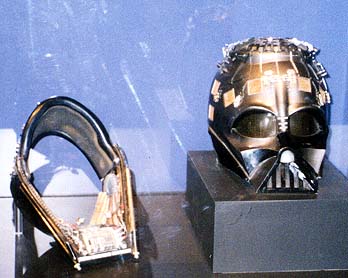 Continue on to the Speeder Bike
Go back to the main Magic of Myth Editorial Page