Disclaimer:
All Star Wars trademarks and images on this website are Copyright and Restricted by Lucasfilm Ltd and Hasbro, Inc. Original material is copyrighted by Erik Schroeder, 1997 - 2010. This is an unofficial fan site that is not affiliated with Lucasfilm Ltd or any of its licensees.
Endor Leia with Removable Helmet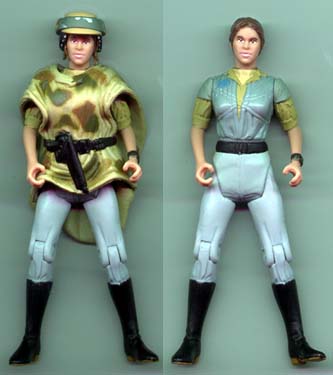 The majority of the body is from Speederbike Leia figure. The arms were cut off the Millennium Mint Endor Leia. I liked those arms a little more since they were flesh-colored plastic and not painted. The head is from the Leia Boushh figure. Since I didn't want to crack the torso, the head is glued on top of the original peg. The helmet is from a hollowed out Luke Speederbike head, so it's nice and roomy.