Non-Buff Boba Fett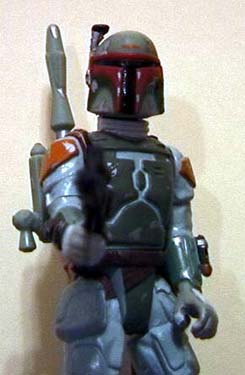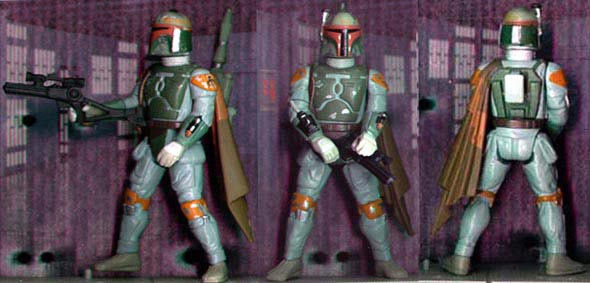 9-26-99 Update:
Above is a close-up of the back seam. Unfortunately, the scalps obscure the seam a bit. Also in the scan you will see the remaining backpack piece (which was painted brown) from the vintage Fett - what was leftover after I made the cut. I think you can get a good feel for how it should be when you make the cut. If you're afraid of cutting too much, just cut a little bit at a time.
6-24-99 Update:
After re-doing my Redone Boba Fett Rifle to make it more accurate, I couldn't help but spiff up my Non-Buff Boba Fett, which is still one of my favorite custom figures. To the original recipe described below, I made two adjustments. First, I added some wookiee scalps made from threads (you can barely see this in the pictures above). Second, I added articulation to the upper right arm, similar to my Articulated Non-Buff Chewbacca. The way I added this articulation was a bit different from the Chewbacca; I cut along the articulation line, and in the upper arm I drilled a hole that was wider at the back of the hole. Then I trimmed a piece of plastic into a peg shape to fit into the hole. I glued the peg onto the bottom half of the arm, heated the peg in warm water, and stuffed it in the hole. In effect, I replicated the way Kenner/Hasbro achieves its upper-arm articulation (like on the Darth Maul figure).

Scroll down for the original recipe below.
I basically used the POTF2 Boba Fett from the Boba Fett/IG-88 2-Pack for all parts except the torso. The torso is the top half of the body piece from the vintage Boba Fett, and all parts had to be fairly modified to fit together. The pseudo rocket-firing backpack was cut off the vintage torso and replaced with the green armor piece from the back of the POTF2 figure that holds the backpack. The legs and arms were repositioned for the pose. Lastly, the whole figure (except for the head) was repainted, and his cape was glued on his shoulder. And yes, the arms, legs, and head do move, but the waist does not.
If you want to make your own, I recommend using only the regular POTF2 Fett or the 2-pack one. The Deluxe Fett has a slightly different mold, and I can't guarantee that it will work with the vintage torso.
Lastly, you can also choose from two different color schemes when painting Fett. There is the Empire Strikes Back scheme (pictured above), and the Return of the Jedi scheme (which has the red wrist armor pieces ala the regular POTF2 Fett). I personally prefer the ESB scheme.
For other non-buff figures, see my Non-Buff Greedo, Lando, Rebel Fleet Trooper II, Stormtrooper, and Carbonite Han.