Hrchek (Cantina Saurin)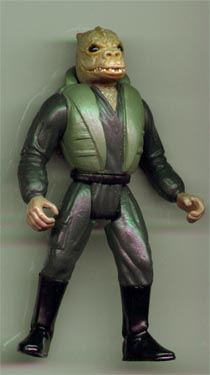 I created this obscure guy because I needed to fill in my Cantina and I had an extra Bossk head. My version of this figure is inspired largely by Stephen Hayford's.
The head is obviously Bossk's. I shortened the neck and reglued the peg. The torso is from Carbonite Han. In order to get the head to fit, I had to file down the collar on the back half of the torso. The vest is made from white Sculpey. I started with a very thick layer of Sculpey, and then sculpted the details for the jacket lapels and pockets from that single piece after it was cured. The collar behind his head is a piece of FIMO, which is less brittle than Sculpey. There's a little bit of sculpey where his chest is exposed. I pressed the tip of an X-Acto knife into the chest to achieve the scaley look.
The upper arms are from Nien Nunb. I had to file down the arm pegs to get them to fit into Han the torso. The lower arms are from Lando General. I picked those because Lando's hands are somewhat close to the skin tone of the head, so any paint wear inside the hands from a gun would not be that noticeable. I used black Sculpey to blend the forearms with the upper arms.
The pelvis piece and most of the legs are from Nien Nunb. The boots are from a Rebel Fleet Trooper, but other boots might work just as well. I shortened the legs and boots to make him even shorter.
I painted the figure's jumpsuit dark green and his vest light green. The boots, belt, and eyes were painted black. I painted his exposed chest a khaki color, and then brushed khaki over the head and hands to get the skin tones to match.