Disclaimer:
All Star Wars trademarks and images on this website are Copyright and Restricted by Lucasfilm Ltd and Hasbro, Inc. Original material is copyrighted by Erik Schroeder, 1997 - 2010. This is an unofficial fan site that is not affiliated with Lucasfilm Ltd or any of its licensees.
Jason Weatherly
Bespin Escape Leia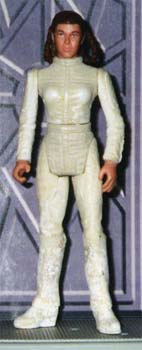 Recipe and pictures by Jason Weatherly
I got two Hoth Leias from Warstar in Nebraska for a sweet deal (thanks man!). I was customizing one into a Bespin Escape Leia and left it in the oven too long and it melted everywhere. So I no longer cook sculpey; I boil it (try it - I am not joking). So I took the second Hoth Leia (I already had one I bought from the FC so this was my third Leia, only 2nd to customize; if you are following closely). The way I made mine is slightly different than the way Erik Schroeder made his version. I trimmed down the boots and just added sculpey over them to make them look like pants. I then cut off the gloves and I shaved off the braid of her hair. I then took the braid from the Bespin Leia (PLC) and glued in on the Hoth Leia head and painted her hair brown. You will need to shave the back of her head flush to get it to glue right.