Disclaimer:
All Star Wars trademarks and images on this website are Copyright and Restricted by Lucasfilm Ltd and Hasbro, Inc. Original material is copyrighted by Erik Schroeder, 1997 - 2010. This is an unofficial fan site that is not affiliated with Lucasfilm Ltd or any of its licensees.
Jason Weatherly
Black R2 Unit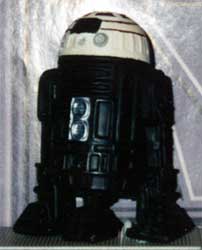 Recipe and pictures by Jason Weatherly
This is a '95 R2-D2. I spray-painted the body with flat black. Then I painted the head white with black trim. The lines on the head were made with a fine-tip Sharpie marker. I added some grey to the holoprojector and other lights on the head. I also painted the vents with a chrome-silver paint.