Disclaimer:
All Star Wars trademarks and images on this website are Copyright and Restricted by Lucasfilm Ltd and Hasbro, Inc. Original material is copyrighted by Erik Schroeder, 1997 - 2010. This is an unofficial fan site that is not affiliated with Lucasfilm Ltd or any of its licensees.
Jason Weatherly
ROTJ Chewie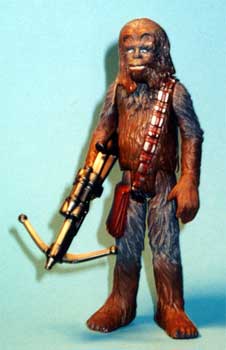 Recipe and pictures by Jason Weatherly
Simply boil and pop the head, take off the chains and put the head back on. It is amazing that they did not figure out a way to make the chain removable.