Disclaimer:
All Star Wars trademarks and images on this website are Copyright and Restricted by Lucasfilm Ltd and Hasbro, Inc. Original material is copyrighted by Erik Schroeder, 1997 - 2010. This is an unofficial fan site that is not affiliated with Lucasfilm Ltd or any of its licensees.
Jason Weatherly
Dannik Jerriko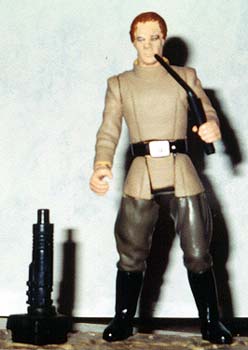 Recipe and picture by Jason Weatherly
He is made from a Tarkin body and Han head. I shaved the hair back to give him a taller forehead and added Sculpey to his hair and nose. I shaved the eyebrows and made some thinner ones using a fine-tipped brown Sharpie marker. I then painted I painted his hair brown and his shirt tan. The "pipe" is the "pointer" thing Capt. Piett comes with, and the "bong" is made from parts of cantina band instruments.