Disclaimer:
All Star Wars trademarks and images on this website are Copyright and Restricted by Lucasfilm Ltd and Hasbro, Inc. Original material is copyrighted by Erik Schroeder, 1997 - 2010. This is an unofficial fan site that is not affiliated with Lucasfilm Ltd or any of its licensees.
Jason Weatherly
Danz Borin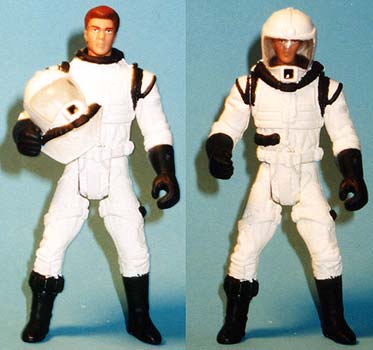 Recipe and picture by Jason Weatherly
He is made from a Bossk body, Garindan gloves and boots, Ep. 1 Obi Wan head, and a helmet from a Robo Cop figure. I cut off Bossk's forearms and lower legs and the same with Garindan, then glued Garindan's gloves and boots onto the Bossk body. I trimmed down the boots on Garindan so that Danz would not be as tall. I then glued the Ep. 1 Obi Wan head onto the figure and painted him white with black highlights.