Disclaimer:
All Star Wars trademarks and images on this website are Copyright and Restricted by Lucasfilm Ltd and Hasbro, Inc. Original material is copyrighted by Erik Schroeder, 1997 - 2010. This is an unofficial fan site that is not affiliated with Lucasfilm Ltd or any of its licensees.
Jason Weatherly
Djas Puhr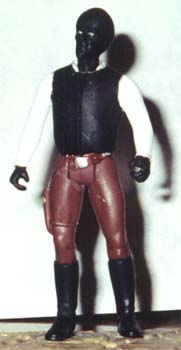 Recipe and picture by Jason Weatherly
He is made from a Bespin Han (Princess Leia Collection) and a Grand Moff Tarkin head. I added black Sculpey to the head and chin and painted the head and hands black. I also added black sculpey to the chest to make it look like a vest. This is another custom I made in a hurry to fill in space in my cantina.