Disclaimer:
All Star Wars trademarks and images on this website are Copyright and Restricted by Lucasfilm Ltd and Hasbro, Inc. Original material is copyrighted by Erik Schroeder, 1997 - 2010. This is an unofficial fan site that is not affiliated with Lucasfilm Ltd or any of its licensees.
Jason Weatherly
Endor Leia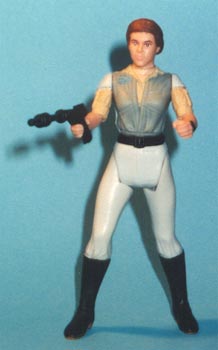 Recipe and pictures by Jason Weatherly
She is made from a Millennium Coin Leia and a Slave Leia head. Just boil and pop the figures heads. I cut off the pony tail from the Slave Leia and added sculpey to her hair. I used a West End Games book for reference on the hair. Then I painted the hair brown and put it on the body.