Disclaimer:
All Star Wars trademarks and images on this website are Copyright and Restricted by Lucasfilm Ltd and Hasbro, Inc. Original material is copyrighted by Erik Schroeder, 1997 - 2010. This is an unofficial fan site that is not affiliated with Lucasfilm Ltd or any of its licensees.
Jason Weatherly
Luke X-Wing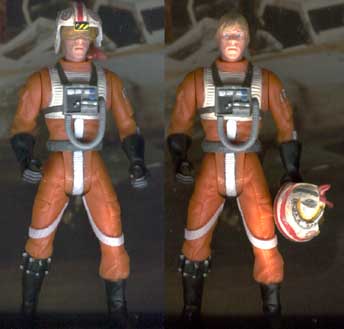 Recipe and picture by Jason Weatherly
The body is Biggs; the head is ceremonial Luke; the helmet is from Porkins. I boiled and popped the heads, and trimmed down the neck of Ceremonial Luke to look right, then glued it in place. I painted the straps on the body white and the cylinders on the arms silver. I then painted the helmet white and added the detail stripes using a tooth pick. The insignias are from Erikstormtrooper's Logo Sticker Sheet for Figures. I glued them to the helmet and then gave the helmet a wash in thinned out light brown and dry brushed some silver to give it some wear and tear. I finished the helmet off with dull coat. Note two things about this custom, (1) I did not paint the microphone or chin strap, and (2) if I were to do this custom again I would not paint the straps on the body white; painting them took away some of the detail of the sculpt.