Disclaimer:
All Star Wars trademarks and images on this website are Copyright and Restricted by Lucasfilm Ltd and Hasbro, Inc. Original material is copyrighted by Erik Schroeder, 1997 - 2010. This is an unofficial fan site that is not affiliated with Lucasfilm Ltd or any of its licensees.
Jason Weatherly
Rycar Ryjerd (Cantina Midget)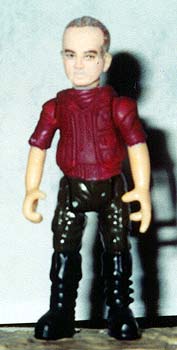 Recipe and picture by Jason Weatherly
This is made from a Will Robinson figure. I shaved his hair and added Sculpey to his head to give him a receding hairline look. Although you really can't tell in the photo, I added sculpey to the face to give him "jawls" for a more aged look. I then painted the his chest and sleeves dark red, his hair brown and gray, and even painted a little grey moustache (it's hard to see in photo).