Disclaimer:
All Star Wars trademarks and images on this website are Copyright and Restricted by Lucasfilm Ltd and Hasbro, Inc. Original material is copyrighted by Erik Schroeder, 1997 - 2010. This is an unofficial fan site that is not affiliated with Lucasfilm Ltd or any of its licensees.
Jason Weatherly
Myo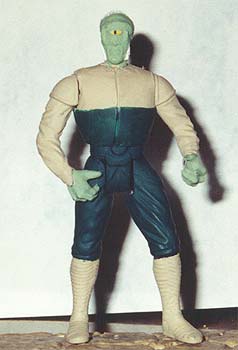 Recipe and picture by Jason Weatherly
He is made from a Prince Xizor figure. I cut the pony tail off and added Sculpey to the face to give him one eye, as well as for the hair on his face and back of his head. I also Sculpied his chest to make it look more like the character. I painted the head light green and the hair on the back of his head and cheeks white. I painted the body tan and dark green.