Disclaimer:
All Star Wars trademarks and images on this website are Copyright and Restricted by Lucasfilm Ltd and Hasbro, Inc. Original material is copyrighted by Erik Schroeder, 1997 - 2010. This is an unofficial fan site that is not affiliated with Lucasfilm Ltd or any of its licensees.
Jason Weatherly
Imperial Guard Lando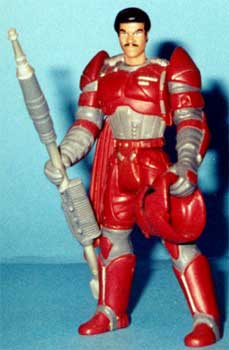 Recipe and pictures by Jason Weatherly
Easy custom, just boil and pop a Coruscant Guard Luke and Bespin Lando and put the Lando head on the guard figure. The staff is from the Xizor 2 pack. The helmet will not fit Lando's head though.