Disclaimer:
All Star Wars trademarks and images on this website are Copyright and Restricted by Lucasfilm Ltd and Hasbro, Inc. Original material is copyrighted by Erik Schroeder, 1997 - 2010. This is an unofficial fan site that is not affiliated with Lucasfilm Ltd or any of its licensees.
Jason Weatherly
TIE Fighter Pilot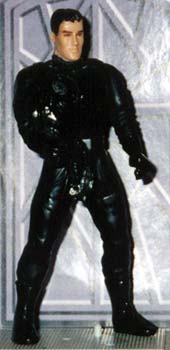 Recipe and picture by Jason Weatherly
I boiled and popped the head off the TIE Pilot. I then took a Space Quest figure, added a bead of sculpey to the neck to give it the Stormtrooper-like neck. I painted the bead black and then glued the head to the body. I dremeled out the helmet, and it does fit on the head.