Disclaimer:
All Star Wars trademarks and images on this website are Copyright and Restricted by Lucasfilm Ltd and Hasbro, Inc. Original material is copyrighted by Erik Schroeder, 1997 - 2010. This is an unofficial fan site that is not affiliated with Lucasfilm Ltd or any of its licensees.
Jason Weatherly
Tusken Raider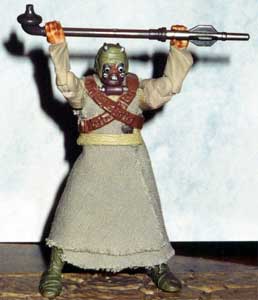 Recipe and pictures by Jason Weatherly
I started with the recipe for Erik Schroeder's Articulated Tusken Raider and added the arms from "Floppy Hat" Luke to my Tusken Raider. I painted the arms as close to the color as I could and gave the hands a heavy wash in dark brown to give them a worn leather look. I also trimmed the belts and waist straps from the Tusken Raider's robe. I then wrapped the figure with some material I cut from an old pair of khaki pants, and glued the belt straps to it.