Disclaimer:
All Star Wars trademarks and images on this website are Copyright and Restricted by Lucasfilm Ltd and Hasbro, Inc. Original material is copyrighted by Erik Schroeder, 1997 - 2010. This is an unofficial fan site that is not affiliated with Lucasfilm Ltd or any of its licensees.
Jason Weatherly
Wuher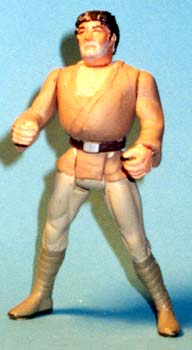 Recipe and picture by Jason Weatherly
The body is a 1995 "He-Man" Luke and the head is from the Rancor Keeper. I removed the hood from the Rancor Keeper, added Sculpey for the hair, and painted his jaw with some gray to give him that 5 o'clock shadow look. I added Sculpey to the belly and painted the tunic a tan color.