Disclaimer:
All Star Wars trademarks and images on this website are Copyright and Restricted by Lucasfilm Ltd and Hasbro, Inc. Original material is copyrighted by Erik Schroeder, 1997 - 2010. This is an unofficial fan site that is not affiliated with Lucasfilm Ltd or any of its licensees.
Jason Weatherly
Yerka Mig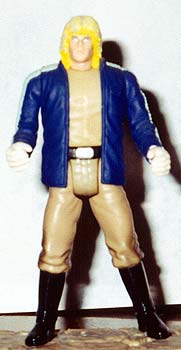 Recipe and picture by Jason Weatherly
He is made from a Ponda Baba figure and a Luke head. I painted the jacket two shades of blue (I thought it was blue until I looked at some photos and found out it's black). I added yellow Sculpey for hair and painted it a little brown to make it look like he has blonde highlights. I am not satisfied with the hair or jacket color, so this figure is currently being updated.