Disclaimer:
All Star Wars trademarks and images on this website are Copyright and Restricted by Lucasfilm Ltd and Hasbro, Inc. Original material is copyrighted by Erik Schroeder, 1997 - 2010. This is an unofficial fan site that is not affiliated with Lucasfilm Ltd or any of its licensees.
Vintage Leia in Bespin Escape Outfit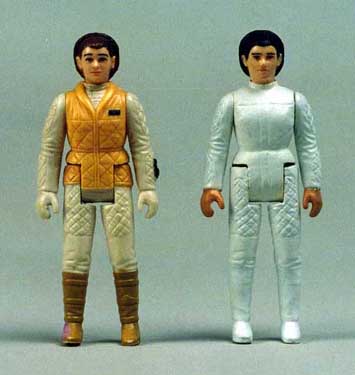 If you want to have a worthwhile Bespin diorama (especially in the carbon freeze chamber), this figure (at right) is a must. I used the vintage Hoth Leia (at left) exclusively. The torso was cut down and sanded, as were the jacket portion of the legs and the boots. I also cut the comlink off the left forearm. I then painted the body white, the hands flesh, and the hair a little darker. All the sculpting and sanding took at least 5 hours. I noticed later that her face is a little different - it looks more serious, which isn't bad considering she wants to get Han back. It's pretty good for a vintage custom, but I am much happier with my POTF2 version: Bespin Escape Leia.