Disclaimer:
All Star Wars trademarks and images on this website are Copyright and Restricted by Lucasfilm Ltd and Hasbro, Inc. Original material is copyrighted by Erik Schroeder, 1997 - 2010. This is an unofficial fan site that is not affiliated with Lucasfilm Ltd or any of its licensees.
Redone Luke in Coruscant Guard Disguise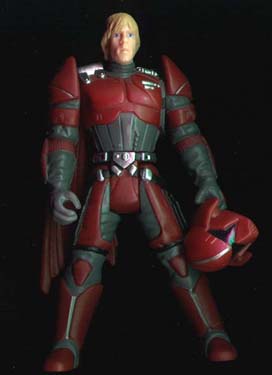 The most obvious improvement to this figure is the use of the head from the Classic 8 Luke. The neck was simply cut and glued to the neck of the original head. Then I glued those clear little rubber bands (that often come in Kenner packaging) around the figure's neck. I painted the turtleneck grey, along with the inner thighs. Then I painted the gunbelt and holsters black, with some glossy silver highlights on the belt and torso.