Luke in X-Wing Gear with Removable Helmet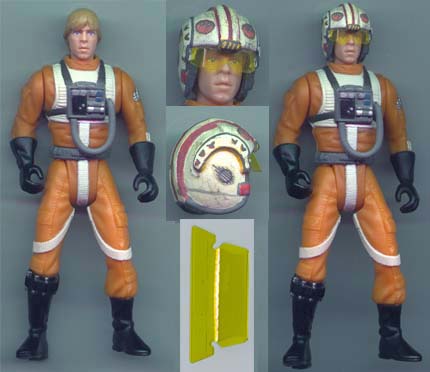 The base of this figure is of course Biggs in X-Wing Gear. I painted the straps white on his stomach and the pelvic piece. I also painted the pen thingies on his left arm silver. The head is from Ceremonial Luke. Since the neck is a little long, I had to cut the neck down and reglue the peg.
The crowning piece to this figure, quite literally, is the helmet. It's a hand-painted blastshield helmet from the Luke Blastshield figure, with the visor cut off. I started off painting the whole thing white, and then adding all of the details in red, yellow, dark grey, and light grey. The rebel logos and "rebel wings" on the side of the helmet were created in PhotoShop. Here they are:

I printed them on adhesive paper and stuck them in place on the helmet. Then I sealed the whole thing with a dull coat. Dark grey was dry-brushed on to give it a battle-worn look.
The visor was cut from a yellow vinyl folder tab, shown in the top picture. I bent it in two places, then glued it onto the helmet. I realize that other Hasbro Rebel Pilot figures have orange visors, but the yellow is actually more authentic to the movie.