Captain Antilles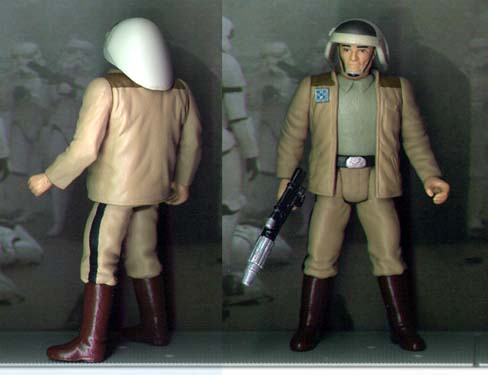 I have always felt that my original Captain Antilles was a little too buff, so I finally went back and redid the figure. I used some of the same parts, so the original Captain Antilles no longer exists. Here's a comparison shot: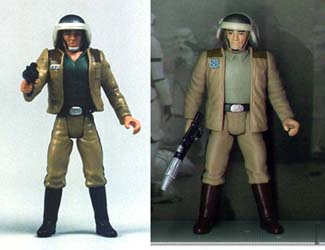 Old Captain Antilles / New Captain Antilles
This figure was made using the torso and lower body from Ponda Baba. Actually, these are exactly the same legs from my original Captain Antilles. The arms are from a Han Bespin figure, with the pockets filed off. The head is that of a Rebel Fleet Trooper with the back of it filed down a little bit. To the base of the neck I glued a small portion of a Han Solo neck, to make the neck a little longer. I then filled the cut line with sculpey, filed it flush, and repainted the flesh color on the head.
The shirt was made using sculpey for the entire front, especially the collar. For the record, Captain Antilles wears a shirt that buttons the same way a Rebel Trooper's does. The vest is also from Ponda Baba, with the ridges along the shoulders and under the arms filed down.
Two final touches: First, I painted the line for the black strap that shows on his white chin guard. Second, I glued a small square piece of plastic to the right breast of his jacket, and painted it silver with five blue dots; this is his rank insignia.
To see how to make his gun, check out my Correct Rebel Fleet Trooper Rifles. For other non-buff figures, see my Non-Buff Lando, Boba Fett, Rebel Fleet Trooper, and Carbonite Han.