Non-Buff Greedo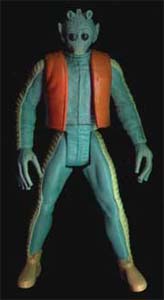 Take the POTF2 Greedo and totally file off that yellow spandex jacket! Use a small file to continue the wrinkles on his chest as far back as the torso seam. Then file the bulging muscles on his arms. Using 600 grit sandpaper will make the filing smooth enough to match the Hasbro finish.
Next get either the Ponda Baba vest or the Ceremonial Luke vest. Make sure you have filed down the figure enough so that the vest fits. You'll want to trim the vest so it's waist-length, cut off the collar, and cut some more space in the arm holes. Now you're ready to paint. If you used Luke's vest, paint it orange, inside and out (it may not be necessary to paint the back inside of the jacket).
The hardest part was mixing the paint for Greedo's chest. Once it's mixed, paint the torso.
Just when I finally have a Greedo I'm not embarrassed to display in my Cantina, Kenner (oops - I mean Hasbro) goes and makes one.
For other non-buff figures, see my Non-Buff Lando, Boba Fett, Rebel Fleet Trooper II, Stormtrooper, and Carbonite Han.