Disclaimer:
All Star Wars trademarks and images on this website are Copyright and Restricted by Lucasfilm Ltd and Hasbro, Inc. Original material is copyrighted by Erik Schroeder, 1997 - 2010. This is an unofficial fan site that is not affiliated with Lucasfilm Ltd or any of its licensees.
Saber-Firing R2-D2 with Corrected Third Leg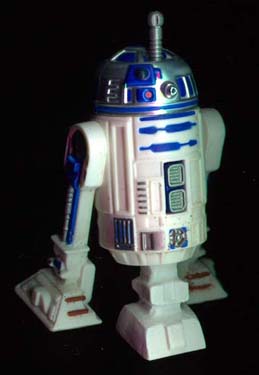 In order to make this figure look a little more like R2 I used a dremel to file down some of the "extra" plastic that Kenner decided to put on the third leg. Note that this can be a risky undertaking, and you might accidentally file the plastic down to the inner mechanism (as I did and had to fix with scupley). This technique was also used on my R5-A2 figure's third leg.