R4-M9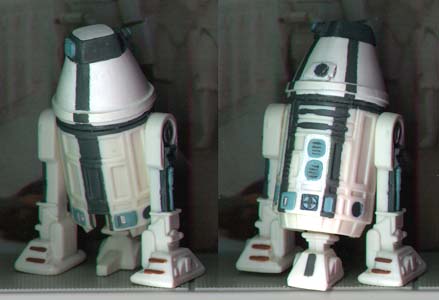 The critical aspect of this figure is the head. I have seen different people use different things, and I recommend you use whatever you can get your hands on. Some have used sculpey, while others have been lucky enough to find a piece of plastic (like a cap on a bottle of detergent) that's close enough in shape.
For my head, I used a booster from a model rocket. I filed the booster smooth, and glued it on top of R2's sanded down head. Before I sanded down R2's head, I had cut off the front "eye," and I later glued it on the front of the new head. As you can see below, the top of the head is made with sculpey. Of course, I could not resist the opportunity to use a rubberband to make the lower ridge on the head. The port on the top of the head was made with spare pieces of plastic, and the other feature on the top back of the head (seen above, left) was made from a Lego piece.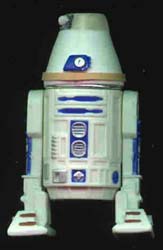 Although the head is very important to this figure, the paint job is equally as challenging. A general way to start is by painting all of the blue parts dark green. Then, to make the stripes I recommend using pieces of masking tape on either side of the painted area to help make straight lines. However, it gets very hard to paint straight lines with all those bumpy panels on his chest. It's definitely not as easy as it looks! I finished the figure off with some light blue on detail areas, and then I gave the whole thing a good dull-coating. The eye was painted with a gloss coat for that glassy look.
I think my version of this figure came out okay. I'm least happy with the fact that I had to repaint the entire head, and I was unable to match the white plastic on the rest of the figure. I considered painting the entire figure white, but decided against it because I knew the paint would likely wear off between the legs and body. Maybe it's not that bad, but I tend to be very critical of my own work.
For some other astromech droids I've made, check out my Saber-Firing R2 with Corrected Third Leg, R5-A2, and Redone R5-D4.