R5-A2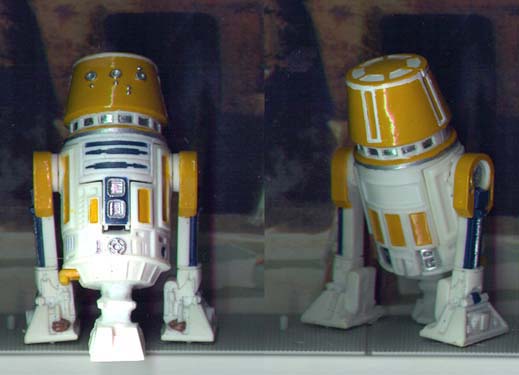 The Recipe
This started out as a simple repaint of Kenner's Attack R5-D4 figure. Once the majority of the figure was painted (pictured below) I decided that I needed some details to really spiff this figure up. First, I used my dremel to give the third leg some added realism. I got pretty close to the hollow rocket-firing mechanism while using my dremel, but I was able to do a pretty good job. One wonders why Kenner left it as a formless shaft (you can see the difference between the above and below pictures). I decided to leave the rocket firing mechanism intact, in case I ever decide to do anything with it. With R5-A2's yellow color scheme, the button doesn't really stand out. Then I sanded down the bottom of the third leg so that he wouldn't lean back so much. To make the white lines on the head, I used masking tape as a guide.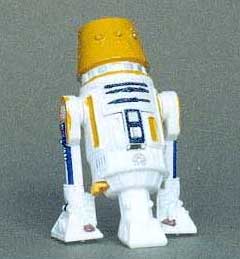 Kenner's R5-D4 figure after some preliminary painting.
The third leg still looks too large.
Accuracy
The challenge for this figure was finding an exact painting scheme. I used as my primary source the photograph on page 24 of Star Wars Insider #36; there is a picture (below) of R5-A2 on the original set of the "These aren't the droids you're looking for" scene. What's interesting is that the horizontal "bars" on the droid's chest in that picture are blue, whereas they are yellow in the Special Edition as well as on Decipher's CCG card for R5-A2. For that reason, my R5-A2 may not look like others. I realize that the Decipher CCG card for R5-A2 pictures him slightly differently, but I tried to use original footage as my primary source.
| | |
| --- | --- |
| Notice the R5-A2 pictured at the bottom right. | Decipher's R5-A2 |
In the end, what is accurate is a call that may have to be made by the customizer. To hear me ramble on a little more about accuracy, Decipher, and checking sources, check out my Sergeant Doallyn.