Non-Buff Rebel Fleet Trooper II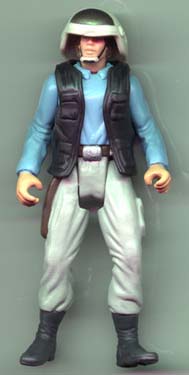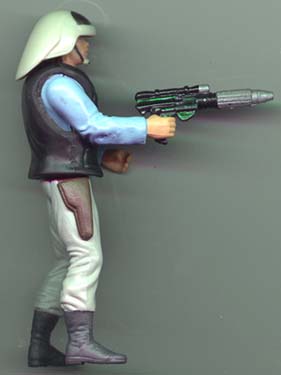 After my first Non-Buff Rebel Fleet Trooper, I still felt there was some room for improvement, as several people were happy to point out. So here, I hope, is my final attempt at perfecting a Rebel Trooper figure.
The helmet, vest, holster, hands, chin guard, and left-leg pocket are from the original Kenner figure (shown below). The legs are from Weequay. The pelvis is from Garindan. The arms and torso are from the Millennium Coin version of Jedi Luke. The head is the original "Buff" Luke version (none of my Lukes have this head any more, so I don't consider it a "Luke" head).
The top of Luke's head was cut off to fit in the helmet; I purposely cut the head so the helmet would sit low (watch the movie). His chin was cut off too to make room for the chin guard. A sculpey collar was added to the torso, and sculpey was also used to make the sleeves fuller near the wrists. Just a dab of sculpey was put on the belt buckle to get the look just right. I filed down the upper legs, and I had to file down the shirt edges on the pelvis. Because of the way the legs fit in the pelvis, I had to reposition the boots slightly to get a good stance. The arm holes in the vest were made larger. The back of the helmet was trimmed a bit, and the final little detail was cutting the "box" off the right side of the helmet and moving it to the left.
Before gluing all the limbs in place, I painted all of the pieces with three coats of the appropriate color. I painted his hair brown. Don't forget to paint the straps on his face. After the torso was glued together, I glued the inside of his vest to his upper chest; this actually makes the vest look bigger and lighter, like in the movie. After that, I went over all the paint again with a fourth coat. The belt buckle, belt boxes (you can barely see the left one), and helmet visor got a gloss coat.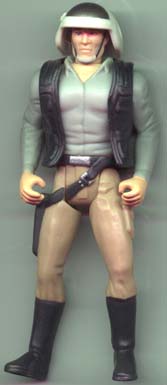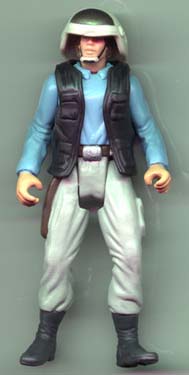 Comparison with original Kenner Figure
| | |
| --- | --- |
| | For a Rebel Trooper in a "Firing" pose, check out my Rebel Trooper III, which uses the Luke torso and arms from the Final Jedi Duel Cinema Scene. |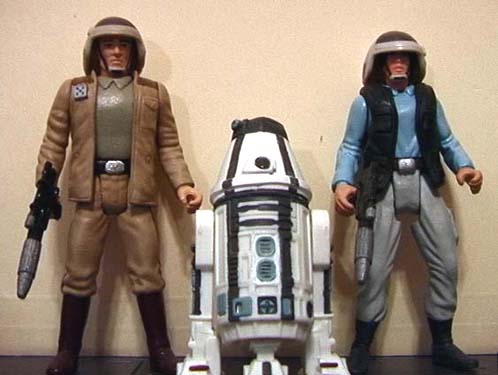 Rebel Trooper guarding my custom Captain Antilles and R4-M9