Force-Training Ben Kenobi in Robe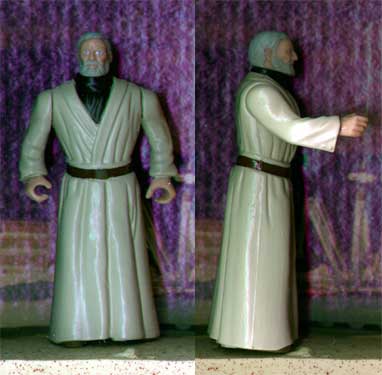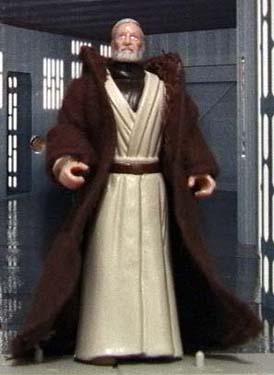 This figure was made from a few spare parts leftover from my Multipurpose Ben. It is an almost straight regurgitation of Andrew Gruner's, with a few slight modifications. It uses the bottom portion of the Emperor figure, the torso and head of the Cinema Scene Obi Wan, and the arms from a Tatooine (He Man) Luke. I cut and filed off the front sash of the Emperor's legs (a real pain in the butt), and had to cut them off below the belt at an angle (seen best at right). As a result, the waist does not turn, but that really doesn't bother me. The hands are from the Ben figure, since my Tatooine Luke hands had already been used for customizing parts. I also cut and filed down the muscles on the arms. It was finished off with a repainting in cream (the robe) and brown (the turtleneck, belt, and shoes). The Jedi cloak from the Episode I Tatooine Accessory Pack looks good on him too.
Ideally, this figure should be made with the torso from the regular Obi Wan Kenobi, not the Cinema Scene Ben (which looks a little too wide in the chest if you ask me). I just used the pieces I had laying around, but this figure could probably be redone better. I would also want to make the seam in Ben's lower robe match the seam in his upper robe.