Special Edition Sandtrooper with Macrobinoculars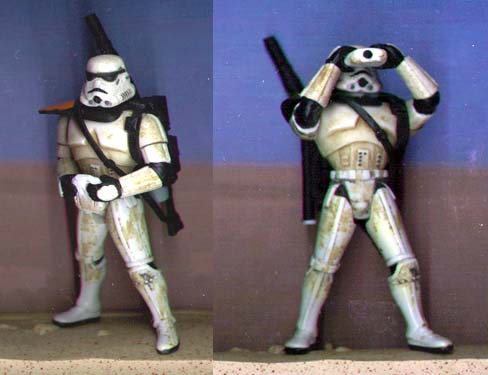 I used the base from the Purchase of the Droids 3-pack for this scene. The background picture for this is a sandtrooper desert scene that I found on someone's web page (sorry I don't know whose page it was; I was searching for hours to find to a halfway descent picture). To view the full thing, click here. Even though it's a little blurry, I think it would make a pretty cool background for a Dewback Patrol cinema scene (hey, there's an idea).
This figure is made from the torso, arms, head, and accessories of the Kenner Sandtrooper. The legs and pelvis are from the Luke Stormtrooper to give him a better stance. The right arm was cut at the elbow, and a new sculpey elbow was made. The hands were also slightly repositioned to hold the macrobinoculars better. The macrobinoculars were sculpted from scratch with sculpey. The blaster strap was extended using a piece from the strap of that useless other gun that comes stormtroopers. The left shoulder strap is made from a broken vintage utility belt from the accessories pack. The dirty effect was achieved by first using paint remover on the Kenner airbrush dirt on the torso. Then I painted the figure with watery grey and brown, wiping off each coat with a napkin after drying. I had to glue the macrobinoculars in his hands because they kept falling out.
This should more properly be titled the "Dave Dorman Sandtrooper," since its inspiration comes from the Dewback Patrol print (pictured below) by that artist. The sandtrooper with the macrobinoculars in the Star Wars Special Edition has a black pauldron and is not wearing a blaster on his back. Thanks to Stephen Hayford for pointing out that the macrobinoculars used by the sandtroopers were identical to those used by the rebels on Hoth.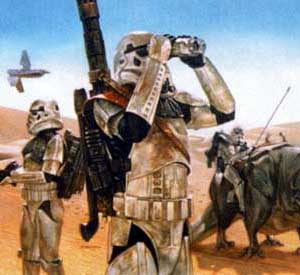 Dave Dorman's Dewback Patrol print