Disclaimer:
All Star Wars trademarks and images on this website are Copyright and Restricted by Lucasfilm Ltd and Hasbro, Inc. Original material is copyrighted by Erik Schroeder, 1997 - 2010. This is an unofficial fan site that is not affiliated with Lucasfilm Ltd or any of its licensees.
Redone Sandtroopers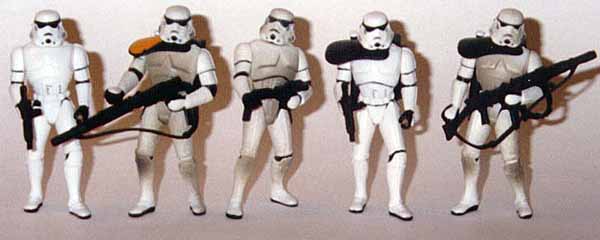 Any stormtrooper aficionado will appreciate my need to create several customized sandtroopers. This picture shows you how you can use Kenner's steroidized 1995 stormtrooper (first from left) and 1997 Sandtrooper (second from left) to make other sandtroopers. The center stormtrooper was made by simply removing the shoulderpad and backpack from the 1997 sandtrooper; the right hand was also cut off and glued on at a different angle. The removed accessories (with a paint remover applied to the shoulderpad) may then by put on the regular 1995 stormtrooper to give you another sandtrooper (second from right). The figure all the way on the right is simply the Kenner sandtrooper with a paint remover applied to the shoulderpad to make it black.
To see these guys in action, check out the Mos Eisley Diorama from my diorama section.