Disclaimer:
All Star Wars trademarks and images on this website are Copyright and Restricted by Lucasfilm Ltd and Hasbro, Inc. Original material is copyrighted by Erik Schroeder, 1997 - 2010. This is an unofficial fan site that is not affiliated with Lucasfilm Ltd or any of its licensees.
Repositioned Stormtrooper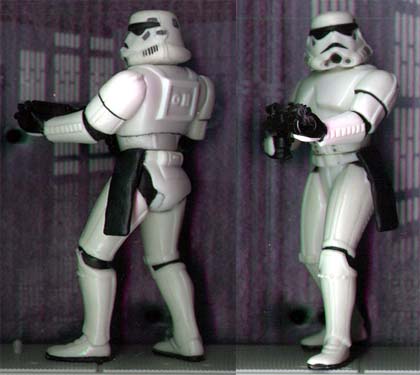 Nothing Fancy, just a slight repositioning of the arms and hands to hold the blaster in a more dynamic pose. I added a little detailing to the paint job, such as black lines inbetween the pieces of armor, and a fuller mouth (I used a pointed toothpick to get the paint in there). I also added a sculpey holster. It's very similar to the pose of the mail-away Han Stormtrooper.