Female Stormtrooper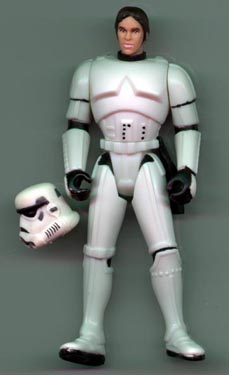 What you need:
Luke Stormtrooper body
Regular Stormtrooper head
Leia Boushh head
I actually made this custom for someone else who requested it. I liked it so much that I had to put it on my page. The custom itself was fairly simple. Boil the figure to get the Luke head out, stick the Leia head in. I made the black turtleneck with - you guessed it - a rubberband painted black.
If you're a perfectionist like me, you'll probably be bothered that Luke's helmet is a little too big for the Leia head. I fixed this by hollowing out a regular Stormtrooper head to get just the right fit. A nice touch is also a blaster holster on the left hip.