Articulated Tusken Raider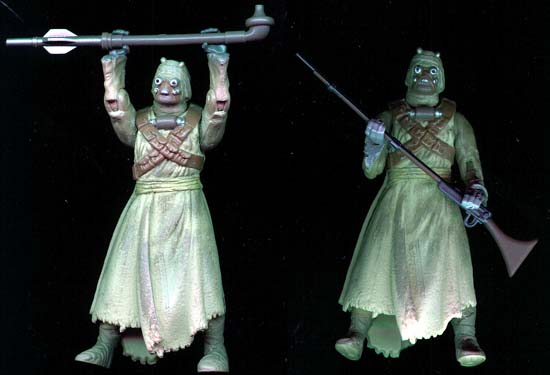 The main change to this figure is obviously the articulation of the arms and hands. To achieve this I used the arms of the Classic 8 Luke, which were cut about halfway down the upper arm. I cut the Tusken Raider's arms at the same place, glued the Luke arms on, and then used a little sculpey to blend the two pieces together. I used my dremel to make what appeared to be rips and tears in the sleeves to give them a worn look. The arms were then painted to match the rest of the figure.
I cut off the head and repositioned it so that he is no longer looking at his feet. The feet, by the way, were also repositioned so that he could stand up without bending forward.
As a final touch I lightly brushed him with light brown paint for a dirty look. The gun is from the Classic 8 Luke.