Disclaimer:
All Star Wars trademarks and images on this website are Copyright and Restricted by Lucasfilm Ltd and Hasbro, Inc. Original material is copyrighted by Erik Schroeder, 1997 - 2010. This is an unofficial fan site that is not affiliated with Lucasfilm Ltd or any of its licensees.
Wedge Antilles in X-Wing Gear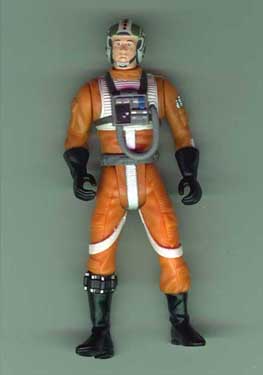 A quick head swap is the secret of this figure. I took the head from the Wedge Antilles (correct version) and put it in a Biggs body. I also painted the pen looking things on his left arm silver and the straps that run down his stomach and on his pelvis white.