Disclaimer:
All Star Wars trademarks and images on this website are Copyright and Restricted by Lucasfilm Ltd and Hasbro, Inc. Original material is copyrighted by Erik Schroeder, 1997 - 2010. This is an unofficial fan site that is not affiliated with Lucasfilm Ltd or any of its licensees.
Detailed X-Wing Fighter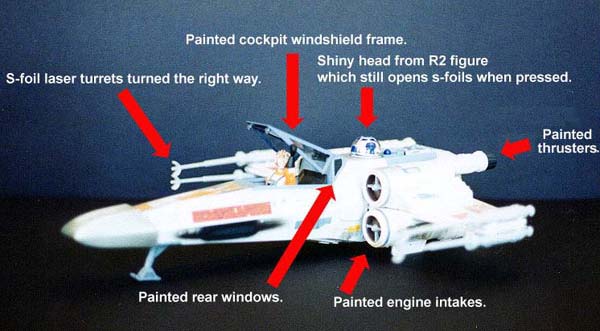 This is my detailed X-Wing. I like to think of it as a cheap alternative to Kenner's new Power F/X X-Wing Fighter. The most challenging aspect of this job was getting the R2 head to still work the s-foil apparatus. Don't ask me how I did it; I don't remember. All I know is that I sat down with the spare R2 head leftover from my Redone R5-D4 and awoke from a frenzy about 1.5 hours later with a working mechanism. Since I've taken this picture, I've also painted the light blue "candy cane" stripes on the s-foil turrets.