Fonts in Action
I really enjoy making fonts, but it's sometimes hard to know if they're "loved" by others. So seeing my fonts being used and enjoyed gives me an almost parental sense of pride about my creations. I like to look for my fonts on the web, and I occasionally see them in web graphics. But I get really excited when someone makes something "real" (like a physical object) out of my fonts.
501st Legion Swag
At TK118's website, I found this poster that uses my Galactic Basic font: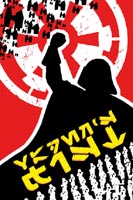 It looks like it was created for the 501st Legion. I'm hoping this was actually printed, since I'd love to get one for my office. Unfortunately, TK118 didn't have any information on the poster, and he couldn't even remember where he'd found the image.
Tattoos
By far, I get the biggest ego boost when someone uses one of my fonts to create a tattoo. The idea that something I made is becoming a permanent part of someone's body is extremely flattering. So here are a few tattoo photos using my fonts.
Ilya "Samodelkin" Novikov's tattoo using my Engli-Besh font:
Violet G's tattoo, which reads "May the Force be with you", using my Galactic Basic font:
Violet says: "The guy who did the tattoo is Bill Stevenson at the Baltimore Tattoo Museum - a nice guy and excellent tattooist. I highly recommend him."